We launched Lectronz, the new marketplace for the DIY electronics community, just two weeks ago.
Numbers
I'm happy to report that we already have 9 stores selling 24 products! And 14 orders were fulfilled already!
We remind potential sellers that they will not pay any platform fees for the first 10 orders they receive if they join us now!
We announce each new product added to the store on our Twitter feed, where we already have over 500 followers!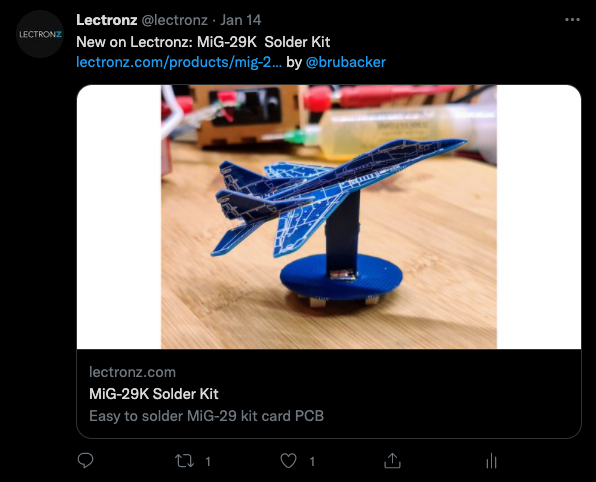 Thanks to the community
Beyond these numbers, a lot has happened behind the scenes, thanks to the spontaneous support we got from community members through questions, feature requests, bug reports, and even software development!
Many users took the time to hop on our Discord server and share their ideas and feedback. In many cases, we managed to take this input into account immediately, enhancing the platform and fixing issues as they came.
Perhaps the most exciting contribution came from Arturo182, who created Lectronizer, a desktop client for the Lectronz marketplace. This application in early development already works successfully on Windows, macOS, and Linux. It enables sellers to monitor and fulfil orders, thanks to the JSON API offered by the Lectronz platform. We took this opportunity to further grow and enhance the JSON API we offer to sellers.
These examples illustrate our goal: build an online marketplace for the community and with the community.
Opening up
While Lectronz sells to customers around the globe, we are currently only accepting sellers from the EU. We got many questions regarding this limitation from UK and US makers eager to join our platform. The main reason for this initial limitation can be summarized in 3 letters: VAT (Value Added Tax). VAT is a sales tax that mainly applies in the EU and UK. Since July 2021, EU regulations have put a new requirement on platforms like Lectronz: we must collect VAT on behalf of non-EU sellers when the final customer is located in the EU for orders below 150 EUR. Since Brexit, a similar requirement has existed for the UK. However, accurately implementing these tax requirements is complex. Hence, we want to focus on implementing EU tax rules correctly by first onboarding EU-based sellers before opening up to sellers everywhere.
My message to non-EU sellers: hold tight, we are coming to you soon! 😀
March 2nd, 2021 Update: We are now open to sellers everywhere!