Achordion
This module allows you to do many things, but in essence, it is just a bunch of oscillators that never go out of tune or out of scale! Apart from playing anything between lush pads and hellish walls of sound, it enables you to easily jam with other musicians and explore characters of different scales. If you don't know any music theory, don't despair, the module will do all the harmony maths and all left for you to do is to use your intuition. If you, on the other hand, understand the basics of music theory, with this instrument, you can leverage it.
Note that this is a eurorack module, not a complete synthesizer. It cannot be used without a case and a power supply.
Overview + demo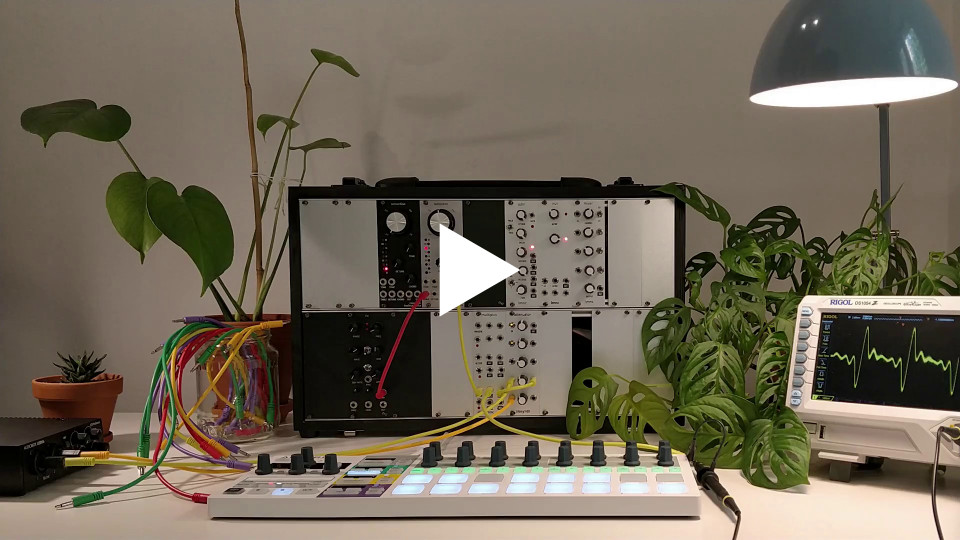 Features
With up to 18 simultaneous voices and smart quantization, this module is much more than a regular VCO.
Aluminium panel with high-quality anodized finish
CNC engraved lettering
10 HP, skiff friendly
Based around Electro-Smith's Daisy Patch SM platform
Wavetable synthesis, 37 wavetables, smooth transitions
Up to 18 simultaneous voices
Sub-octaves, duplicated tones, and chords
4 styles of playing - single tone, chords, arpeggios, intervals
Quantization to selected scale
Any scale can be played with the white piano keys
Two lines with independent 1V/oct inputs and audio outputs
LEDs visualizing dialed parameters
Programmed in Rust
To learn more, see the video above or read the User Manual.
DIY Kit
If you opt-in to build this module yourself, you will receive a full DIY kit. This kit contains a printed circuit board (PCB) with all the surface mount parts (SMD) parts already pre-soldered. The through-hole components are left to be assembled by you. If you wonder about the complexity, check out the Build Manual. Apart from all the needed parts, this kit also contains power cable and mounting screws.
Orders are handled over the weekend and shipped on Monday. All items are shipped from the EU. All packets are represented to courier services and customs at their true sale value, and all responsibility for import fees, taxes and tariffs lie with the buyer, unless stated otherwise in the shipping option.