What is it?
The Omzlo PiJack pHAT lets you power your Raspberry Pi with any DC voltage source ranging from 6V to 32V, such as a car battery or a wall wart AC/DC adapter. It features a DC/DC buck switching regulator that is designed to provide up to 3A to your board.
The Omzlo PiJack HAT features a barrel-type power jack for DC wall supplies, with a 5.5mm jack and a 2.1mm center pole diameter. You can also optionally solder:
A 2 pin 3.5mm screw terminal block in order to connect power supply wires directly to the HAT.
A 2 pin 2.54mm header in order to connect the 5V output to something else than the Raspberry Pi.

By default, the board is provided without a 2X20 pin GPIO header, but you can add to your order as an option:
a female header 2x20, with short leads, unsoldered.
a stacking header 2x20, with extra long leads, unsoldered.
The board layout is described in the picture below: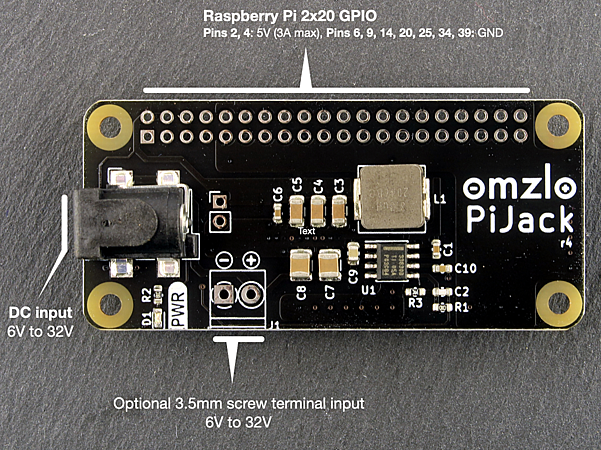 A Raspberry Pi board is not included with the PiJack HAT: you can connect it to any Pi Zero, Pi 2 model B/B+, Pi 3 model B/B+ and Raspberry Pi 4.
Free yourself from USB and power your next Raspberry Pi with the PiJack HAT!
Why did you make it?
This is an "accidental" byproduct of another bigger project: the Omzlo IoT platform, which offers a network of Arduino-compatible nodes managed by a Raspberry Pi, using CANbus and a common 12V (or 24V) power rail. Since we wanted to power everything with 12V (or 24V), we needed to design a solution to power the Raspberry Pi as well.
We found out that adding a DC power jack to a Raspberry Pi can be quite useful for many projects, allowing you to accept a much wider range of voltage inputs than the typical 5V provided through USB. So we decided to create this HAT and share it with the community, as described in our blog:
What makes it special?
As far as we know, this is the only Raspberry Pi power supply HAT that accepts such as wide range of voltages, providing up to 3A, while being fully open-source/open-hardware.
There are a few cheap DC/DC converters available online with specifications almost similar to the PiJack, but they are often extremely noisy and of questionable quality. The oscilloscope snapshot below shows the AC-coupled output of a PiJack running with a 12V input and a 1A load on a 20mV vertical scale: noise is clearly very limited.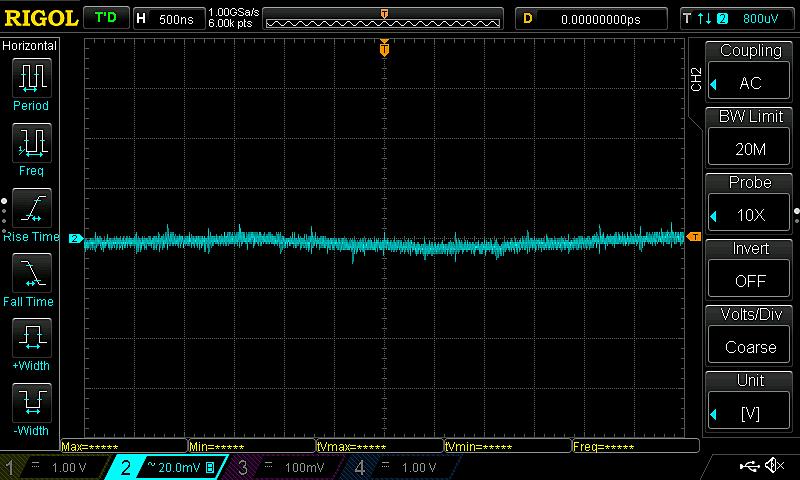 In the end, it's a very simple but useful device.
This is version 4 of the PiJack, which was fully redesigned using a new DC/DC converter that can deliver up to 3A, and offers greater input voltage headroom (up to 36V, 32V recommended).